Recycling???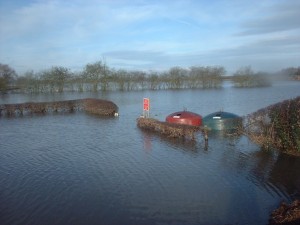 This was the river Severn at Severn Stoke yesterday, it had climbed the fields for at least a quarter of a mile, and houses were made into Islands! It really was a sight to see compared to its normal state, it had risen up to the village war memorial and in the corner of the shot, the sheep have climbed a hill for refuge.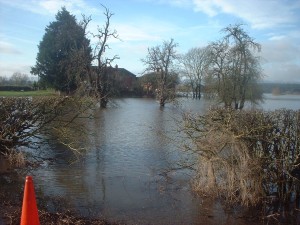 I am looking forward to trying to find some barbel when that river drops!!
Anyway, back to the "fishing" yesterday… So we drove on over to the Warwickshire Avon and had a go. The river was a couple of foot up on normal level and a milky brown colour, the temp was reading 6 centigrade and we were unsure whether to be optomistic or not, but one thing was for sure, the temp was not going to drop while we were there!! Roving around and trying several swims was the plan, on the fourth swim the sun was setting, and the sky turned red. It looked beautiful and as I was looing to the horizon thinking this, the rod whacked over in my arm! The first barbel of the day was on and it was feeling very heavy and pulling hard.
When it arrived in the net I was quite surprised to find it going to 8 and half pound, it fought like it was heavier, but, it was a full fish and fit from fighting these floods. Next cast was just into dark, and over it went after 20 minutes or so, the fish pulled well and just as I thought it was safely hooked, the hook pulled!! Shame. Next cast, another good knock and this fish of 6lb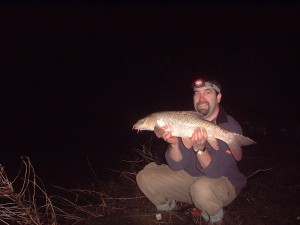 Just after this, a call came from Nick who was half a mile upstream, he had just returned his first fish of the year, a lovely 10lb 2oz! What an afternoon, we all caught and before it was too late Nick had had a second 10lber (10lb6oz). Time to celebrate. So we stopped off for a nice "Ruby" on our way back to Bristol. The tally was 8 barbel between 3 of us, with Big Bragging rights to Nick who had a brace of 10`s and a 9 and half pounder just before we got to him on route to the car park!! Well done again Nick, it really was your turn for the big girls, and here`s to more in 2013!!