Well after watching that wonderful display of England`s domination, ha ha, I was off for the river and a chance to see the season in with a bend in the rod. Arriving an hour or so before light (the words to a Grease song, "Those summer nights" in irony in my head) I decided on a roving approach, only having a few hours before family committments. The river was well coloured and pushing through, so meat was the bait of choice and after a couple of wrong swims, seeing the river better and better, I had a great pull after the distinctive knock knock as the fish – picked up – and tried to engulf the bait.
A spirited fish of 3lb 8oz joined me on the bank, he would have struggled to get the meat in!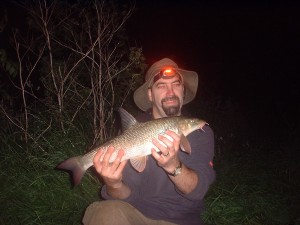 Then an hour or so after that fella, along came this one nearly twice the size and fighting hard as ever!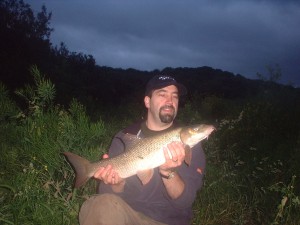 It was a struggle to pull off of the river as the fish were going to feed all day for sure, so all the very best to those venturing out this weekend.
My next trip is our annual start of season camp and fish, it is great to be with friends and share our passion for fishing and all things outdoor. Lets hope the weather just stays fair for a comfortable camp!!