After a fairly long old day, I had managed to get a few hours on the river and so the plan was to try the Lower Severn into the dark, and then change rivers to the Warks Avon, where they sometimes wake up late on!! The hours on the Severn were fruitless and my move was made sooner for this reason, just the tell tale knocks from one or two of the many Bream that frequent the area. This is where the fun was to begin….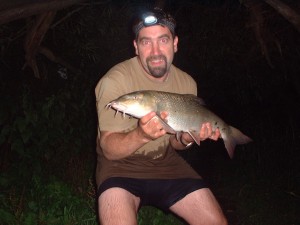 I arrived and, after just 10 minutes of the first cast, hooked into a fish! The fish went very well and took more line than expected, managing to swim around a reed bed and lock me up. There was no option, but to strip off on this balmy evening and get in the river, so thats what I did. In doing this, I was walking alongside many small fish who were using this shallower calmer water as home. The real fun began when I shone my headtorch and the Perch and Pike started to strike into the groups of fish around me!!

Watching this (and hearing it) was a fun distraction, whilst still trying to maintain a tight contact with the fish on the hook! I was soon out into the area where I could get a better angle to pull the fish from. The water had passed my waist and belly button, meaning I had endured that moment when the water feels quite cold and catches your breath because its passing your midrift! Luckily the fish had loosed and was giving me a scrap in the flow. I turned his head and walked him alongside me as I tried to safely negotiate the stones under foot!!
The fish was a beauty, a shade under 8lbs and well worth the exploits. The next cast was to the same area and had the same result, a good pull and, fish on and, me back in the water to bring it to the bank. The stars were shining and the fish were biting, and I was wet and tired. Four Barbel were caught in six casts and I am sure more would have followed if I could have stayed, but alas I couldn`t and it was time for some dry clothes and a drive home….Until next time.