Well it was great to get out before first light yesterday, but my run of misfortune continues. This was some bad parking….
Unperturbed, I left the car here until it was going to be a reasonable time to go and call on the farmer for his services. Well to be honest, I was in a bit of a flap and worried to boot, still there was nothing I could do but hope that with all this rain, the ground would be as soft coming back out as it was going into this ditch!
Anyhow I arrived at my preferred swim and got my things together for trying to catch one, about 2minutes into the cast with a small open end feeder and pellet and paste, a fish was on and pulling hard. This fish pulled well beyond his weight and had me on the run around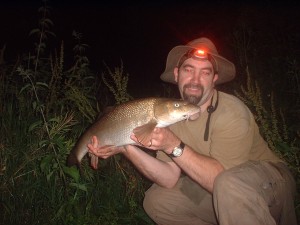 From here on the bites came quite regularly, but they seemed to be chub only, so after 4 of them I decided that if barbel were willing to bite they would have got in by now before the chub, so a move was needed. I moved not too far away and had a pull after just 10 minutes, it took me by surprise and when it went the drag did not kick in and so the hook pulled! When will I learn? Anyhow, next cast and even less of a wait whack and this lovely 9lb 10oz fish was on.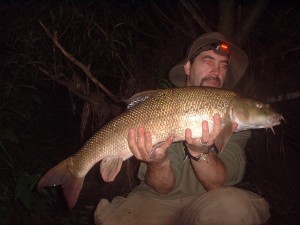 Another chub and it was 7 fish and 7 o`clock and time to find someone to help pull my car from a muddy ditch!! I was very fortunate and found a very nice man and his son who were able to tow the car (slowly) up the bank and onto level land, which of course was set to get softer as the morning went on. After much merryment bacon and tea (and being told how lucky I was not to have damaged the ditch), it was back to the fishing, and the river had not yet coloured up, so a change of tack was in order. A move of swim and scaling down of tackle produced a result which was satisfying, a barbel of 5lb and a couple of hours with bites including a dace and roach.
The rain had been constant for a while now and it was lunchtime, time for a different river. The roads all across the midlands were chaos with closures and floods but when I eventually got to the next river I knew the conditions were fine for barbel. With rain now hard and constant and the banks like ice rinks, and the river rising before me, I dropped a line. The bite did not come instantly, but when it did it nearly took the rod too! Playing this fish in the pouring rain had seen me soaked through quickly,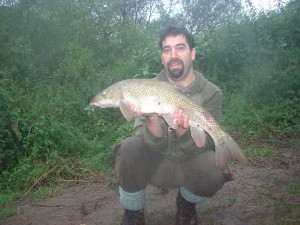 a decision to catch a few and then head home was made. My pictures were taken with the camera under the brolly and only essentials staying dry. So, trying a couple of swims, I landed 7 barbel to 8lb by 7 o`clock, and it was time to leave the river to rise some more while I went back to the car to dry off and change.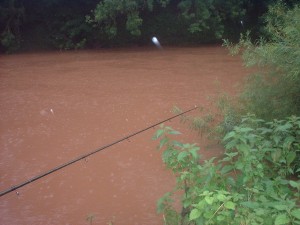 Believe it or not, my last cast saw me catch……………an eel! It is crazy to think that this time last year we were able to watch barbel onto the hook and this year all our river pictures are of swollen rivers.