Wednesday 27th June
Four rivers, lots of walking, eels, broken tackle and those were the good things! (Yea right)
After 2 separate big diversions because of road closures, and more miles than I would have wanted, I ventured out and tried to catch the river before first light. I thought that the best way to start this day would be on the Warwickshire Avon. I spent 4 hours biteless, dropping into several swims. I did manage to find a bank stick and a baiting needle belonging to my friend who was there the night before.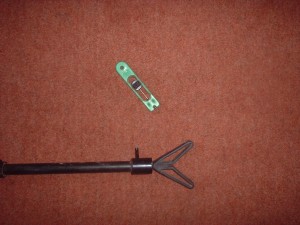 I then headed back to the car for some well needed sleep and a rethink on where to go later this morning.
I decided I would travel across to the Teme, but on the way passing the river Arrow I could not resist a try. The first cast produced an eel, the second cast another eel, and then the third cast after 10 minutes or so, a big pull and a scrapping fish, which before I could see it – had shed the hook!! I am sure this was a small/medium sized barbel. There was debris on the hookpoint and this must have stopped the hook from holding properly (bad luck or bad angling)? Onwards and upwards!
I arrived at the Teme about noon(ish) with the sun shining and warming all below. The river looked great for bites and I tried all my known holding areas. And low and behold 2 chub and this lovely sea trout later,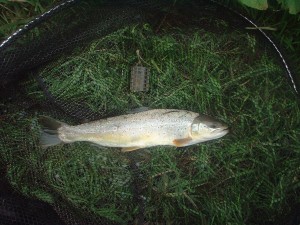 still no barbel. Upon returning the sea trout to the murky depths, my landing net wanted to follow and fell off the end of the handle! (Something else to fix)! Others on the stretch were struggling too. But at teatime, I did manage to witness someone's 11½lb, beautiful big framed barbel. After helping weighing etc, I headed back to the car for tea, to regroup and to plan the last few hours of the evening.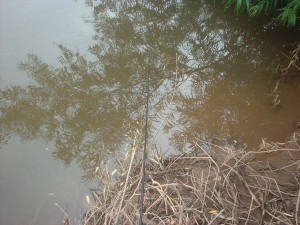 Very tired, I made the decision to try yet another river, instead of staying for the evening on the Teme.
So, to the Lower Severn and homeward bound. I dropped into a few swims, which produced success for me last season. And as the sun set, the rod pulled over hard and I thought that my persistence had paid, only to find the distinctive fight of yet another eel was upon me. So after untangling the line and one more cast (just one more cast) it was 10.30pm and time to get home to bed. In this final part of the evening, I lost a feeder, a rig and noticed a big crack in my new head-torch – as if anything else needed to go wrong!
In this beautiful game of ours, there are good days and bad days, and for many different reasons (not just the fishing) the good outweigh the bad. This one is one that I shall certainly remember for various reasons and learn from.