Well as mentioned on the predictions page, I did venture out on Sunday afternoon after Joseph`s football match. He was very excited to be going out with Dad and – for the first time – our friend Mark. The conditions were not the best for Barbel, but after some colder days and nights it looked the most likely to produce a bite if we were lucky. A bite between us would be a result today… Arriving on the Severn we had before us, a coloured river with 6 to 8 feet of extra water on, the air temps had risen today and the night before had been frost free. We then took the water temp and felt just how cold it was, 40 f!! This would not be good, so we opted for a smaller river with more chance of having had a temp rise, the Warks Avon.
Joe wanted to sit with Mark first and chat, and chat, and chat, even with the chances against us we were still optomistic of one chance before leaving.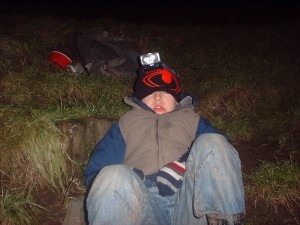 This was Joseph 4 hours after we started, fast asleep on the bank behind me waiting for the rod to pull over in my arm, he had just warmed up with tea and noodles and couldn`t stop the forty winks urge.
Well, low and behold, after Mark and I had covered several swims along the stretch, thirty winks later…..This little fella put in an appearance, I was very surprised as you can see in the picture. The fish was very very cold too.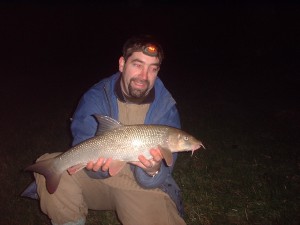 Joseph awoke to see the fish, and join us for the next couple of hours star gazing. As the frost started to set in with the clear skies, we knew our chance was had, and left very pleased with the result of our efforts!!
Not sure when the next chance will come around but, I will be sure to let you know…