John had some holiday and we had fixed to take a couple of day`s away, not sure as to where we would go, we would decide on the day. The morning came and over a hearty breakfast we hatched our plans, we would look first at a new stretch of the river Teme and maybe fish it, and then head to an area where this time last year, there were some fish. The new stretch looked very promising for a future trip but not enough for today, as there was a place we thought would hold more for us!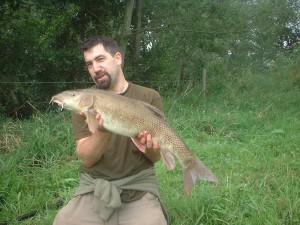 The weather was dry but overcast with the threat of steady and persistent drizzle, we parked up in a lane with a fair walk to our chosen swims. Along our way as we chatted with much excitement as to what the coming day`s might hold and general fishing stuff, John was in full flow of conversation when he took his next step and started to go down a ditch. Unperturbed he carried on talking, not realising that the ditch was only going to get deeper, and he fell into a roll onto his back and sank away into the ditch. I am afraid we were too busy nursing our laughter for a while before we could get it together enough to start thinking about pulling him out!
As we caught our first glimpse of the river here, the conditions were completely different from the conditions we found at the area lower down. The river was red in colour and had a bit of extra flow on, there must have been a blast of heavy rain further up the valley, so our idea of spotting was out of the question. But for every negative (hopefully) there is a positive! For my first cast, a small feeder with pellet to get some bait into the swim, not 10 minutes after a positive bite and a chub of 4lbs. A good start we thought, and second cast a wrench on the rod tip which was enough to wake me from any thoughts, barbel on! After an impressive scrap diving for cover the above fish of 7lb was netted and a mad afternoon of bites was to follow. The swim I was fishing was a deepish pool and John fished the swim above where he could usually watch them, he had changed tactics from float to lead and had one within five minutes, but then the swim went quiet.
After sitting with me, when holding the rod, we watched the 5th barbel take, John decided to move further downstream for bites. I proceeded to get steady bites during the rain including a bream of 1lb or so, and 3 chub all over 3lb, the biggest barbel so far was a very impressive 9lb 14oz. When the barbel tally had reached 9, John having had a skirmish with the cows, dropped in below me and as I waited with him to see if he would get a bite, within 2 minutes the rod went! As John was into his third my rod went, and the fish swam directly for the inside cover below me which was very dangerous looking. I followed the fish out onto a limb and tried to keep the line from rubbing against the submerged branches, I was in a situation and cried out to John for his help! He had to deal with his fish and then come and see my pickle, with disbelief at the lengths I go to, John skillfully netted the "monster" that had caused all this trouble. It was 9lb 9oz and I thought it was much bigger during the whole fight, still it was a stunning fish and the 10th of the afternoon for lucky me. I had another and John a few more too, making it 16 barbel between us (4 over 9lb), an incredible afternoon`s sport for the middle Teme, which has been suffering (barbel numbers wise) year on year.
It was worth our noting that many of the barbel had parts of their fins missing, they looked ominously like bites!
After that session and before it had got dark, we headed back to the car and out for some food to celebrate a wonderful afternoon in a remote location with lots of ooos and aahs.
The next day after a couple of hours late fishing on the Warks Avon and 1 keen barbel to my rod, (I must have stepped in something), we opted for an afternoon on the Severn to get some bait down and hopefully draw some barbel.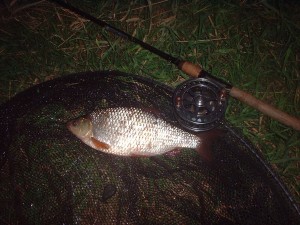 Well to cut this story short, the barbel did not come, this lovely Roach of 1lb9oz did and several Bream also did! For those who do not know what a bream looks like here is one of the slimy fellows, at nearly 5lbs, a small one for the Severn.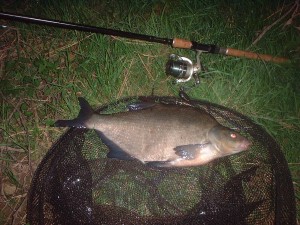 It was a great couple of day`s, and I thank John for his great company (as ever) and we all know it`s not just about catching fish, but when you get day`s like that, you won`t forget them!!