I could not resist the temptation of my local river, and within minutes of just my journey to it, I was feeling quite high and optimistic, (ready to fork out for a local permit). Rightly so as it turned out, the afternoon was warm and sunny and you could see the fish to be targeted. The surroundings are beautiful and only the birds could be heard along with the rippling water, what a day to watch barbel and every other fish behaving naturally in their environment.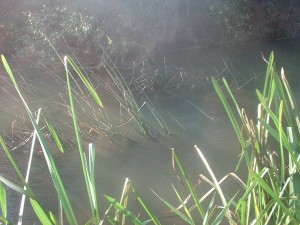 This does not always mean they will be easy to catch, but it can fill the viewer with confidence for chances of a bite or two. And so it was in this vein that I dropped a line into a swim where 5 minutes before 5or6 barbel from 3.5lb to 10ishlb were avidly feeding. Having set the trap I awaited what I thought would be an instant response, it was instant….nothing. The fish had spooked and it was going to be a matter of getting their confidence back before we could see or hook one, so with regular feed little and often, the barbel could not resist coming back for a look.
This is when the adrenalin really kicks in, the fish were inches from the hookbait and as I watched fully expecting the lift and bolt from a hooked fish, the fish lifted off and breezed across the river and into the sanctuary of cover. This happened 3 or 4 times in the next hour or so, the need for change was upon me and so I would try bouncing the bait through a faster flowing part of the swim. As I did this on the first run through two fish were watching under their cover and they were twitching with interest, the rear fish pounced out and onto the bait, (wrench the rod went) and into the fight we went. The fish was fast and pulled to run around the midstream rushes using the current against me, we pulled at one another and (because of his size) I got the better of this prime fish!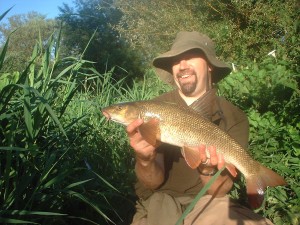 As the sun set on a half decent summers afternoon, I felt completely attached to the surroundings and at one with the environment in which I was stood. With one more cast on dark I tried a meat approach from a different point in the swim, and it only took a few minutes to get a response, a positive pull lead then to a fighting fit fish of 7lb, one of the bigger ones! A wonderful result and a happy angler heading back to the car, for a much shorter drive than of late, and able to get take-away and see my beautiful wife before she had "hit the hay"!